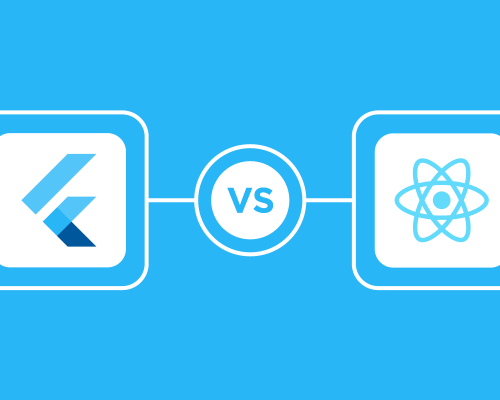 Introduction
Creating an application for smartphones has become a fundamental base in the technology industry. But the applications need multiple platforms on which they are developed. This is also an issue these days. The application developers have to two teams one that works for Android and the other that works for IOS. There is also a huge difference between the applications made by the two teams. This problem gave rise to the ultimate creation of cross-platform mobile applications. The two most powerful competitors are Real Native and Flutter. It can be figured out that there is always a 'React Native vs Flutter' going about. Real Native was created by Facebook whereas Flutter was created by Google. These two help the cross-platform developers even faster just by using one single programming language. React Native is older than that of flutter. A react vs flutter comparison have been drawn based on ten criteria:
Programming Language
Technical Architecture
Setup and Configuration
Installation
UI Components and Development API
Developer Productivity
Testing Support
Community Support
Build & Release Automation Support
DevOps and CI/CD Support
Comparison Between React Native And Flutter
Now that the criteria have been framed, let's move on to elaborating the details between the flutter comparison with react-
Programming Language
React Native uses the programming language JavaScript to create cross-platform apps. It is a very famous language on the web. It is basically used to React. JavaScript provides users with versatile typed language and anything is possible with JavaScript. Web Developers can build applications with a little training now, all thanks to Real Native. This goes as React features and comparison.
The programming language used by Flutter is Dart. This was introduced by Google and developers do not use it. It is far more easy to understand than Java. It supports the object-oriented idea. It is easy, to begin with, Dart as the full documentation is available online. This goes in as flutter features and comparison.
Technical Architecture
The architecture of React depends on JavaScript runtime environment architecture. This is also known as JavaScript Bridge. The code of JS is combined with native code at runtime. The React uses Flux architecture. This is from Facebook. The React Native uses the JS bridge to cooperate with native modules.
Flutter uses the Dart Framework. It has almost all the components integrated thus it is bigger. It also sometimes does not require the bridge that lets communication with the native modules. It is also known as Skia.
Setup and Configuration
The getting started guide that React Native has gets an assumption that the developer has all that is required to set up for the developing for iOS and Android. The documentation goes straight to the step of making a new project. Also, there is less info on the XCode command-line tools that is not sufficient to get along.
The manual guide for Flutter has, on the other hand, detailed information on the IDE setup and platform setup for Android and iOS. It also has a CLI tool known as Flutter doctor which guides the developer during the setup. It has a separate page on the configuration.
Installation
This can be installed by using the Node Package Manager (NPM). The Node Package Manager can install the packages both ways, locally and globally. During the installation React on MacOS, the system needs to have HomeBrew package manager.
It can be installed just by downloading the binary for a particular platform from Github. To install in MacOS a flutter.zip file must be downloaded and should be added as a PATH variable. The installation method is complicated.
UI Components and Development API
The core of React only allows UI rendering and only device access APIs. In order to get access to native modules, it has to depend on third-parties. It is good to clear out that React Native relies on the third-parties.
The framework of Flutter is bundled with UI rendering components, navigation, stateful management, device API access and a lot of libraries. It does not require using third-party libraries. Flutter is completely all in one. It also has various widgets for Material Design and Cupertino. These two easily allows the developers to render UI on both the platform.
Developer Productivity
Nowadays most of the developers are fluent in JavaScript and thus it is very easy for them to use their JS skills for the cross-platform application development. React saves a whole amount of time of the developer by its reloads during the testing of the changes in UI. Developers are free to use any sort of text editor or IDE.
Flutter also possesses a reload feature and it is completely easy, to begin within the first place. But Flutter is complex as the complexity increases the developers also need to gain the knowledge about Flutter concepts. Flutter does not allow free use of text editor or IDE.
Community Support
React was launched way before Flutter in 2015 and thus has gained a lot of popularity. A recent conference was held based on React Native, the React Native EU held in Poland.
It came to the public eyes when Google presented it in the Google O/I conference held in 2017. The largest event held on Flutter is yet to take place and will happen in December, the name in of the event is Flutter Live.
Testing Support
React Native has a JavaScript framework and there are only Framework some unit level testing frameworks. For snapshot testing, the developers can use snapshot testing. There some third-party tools such as Appium and Detox also used for testing.
On the other hand, Flutter provides a huge range of testing features that test apps at the unit, integration level, and widget. The testing support of Flutter is extraordinary. It has a variety of feature.
Build and Release Automation Support
The official documentation of Real Native does not have any automated setup that will generate iOS apps to the App Store. But it does offer a manual process for the deployment of the app from Xcode.
But Flutter possesses a strong command-line interface. A binary of the app created can be developed using these command-line tools. Moreover, Flutter has newly documented the deployment method with Fastlane.
DevOps and CI/CD Support
The React does not possess any official documentation on the setting up of CI/CD. But there are some fields that describe CI/CD for React.
Flutter does have a section on Continuous Integration and Testing which also includes external sources. The strong command line allows to easily set-up CI/CD.
You can clearly have a concept which is better to React or Flutter. You can contact us for any React or Flutter related issue. There also some angular vs Flutter comparison available. We provide all kind of services related to React and Flutter. Just drop us a line at info@webinfomart.com or call us at +91-8920374985, to know more details.