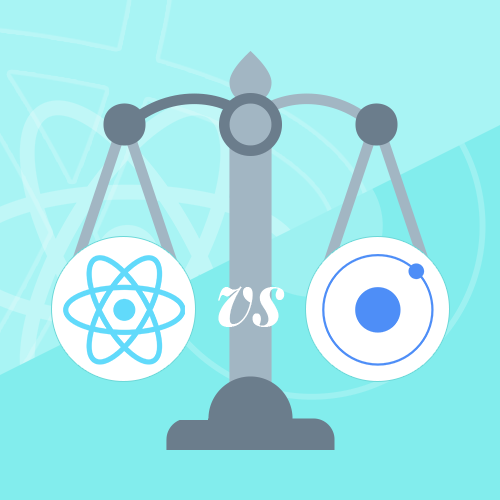 Mobile devices now play an important role in everyone's life. The devices are now designed in such a manner that almost all types of things can be accessible with the help of this device. So, due to all this, mobile app development is now a trending topic everywhere. If you are trying to get your hands on this by going for the mobility and capitalizing on all kinds of mission-critical mobile apps which will help you to expand the business in a good way. When it comes to development, there are many frameworks which you can use to develop mobile apps. But the confusion arises among them is which is good enough for you and to clear it here it is explained between Ionic vs Angular vs React framework.
What is Angular Framework?
The angular framework is one of the popular JavaScript which is available for you by TypeScript. This framework is developed by Google and was got released in September 2016. This framework is described as the form of "Superheroic JavaScript MVC framework." This version from Google is said to be a rewrite version of AngularJS which was got released in October 2010.
What is React Framework?
This is the next popular framework, which is developed as well as maintained by Facebook. This is Javascript library and was released on March 2013. This framework is described among the users as the "Javascript library for building user interfaces." If you look at the popularity, then this framework is said to be used more concerning the Angular framework.
What is Ionic Framework?
This framework is like an open-source platform which is used for hybrid app development. This framework is said to be using HTML5, CSS, and JavaScript. In this, all the apps are built with the basic focus on the feel, UI, and appearances. This too uses a very much combination of Apache Cordoba and Angular framework to develop the things in a better manner.
With these three frameworks in the picture, you can see that these things are very helpful in a better manner for all the developers. But still, these three things have some differences when it comes to features and functions. To make it more easily understand which thing is good for you, here is the Angular React and Ionic comparison.
| | | |
| --- | --- | --- |
| Features | React Native | Ionic |
| Purpose | Learn only once and write everywhere | Write only once and run it everywhere |
| Language | React and JavaScript | HTML, CSS, Angular JS, TypeScript and JavaScript |
| Developers | Facebook | Drifty.co |
| Performance | Gives a native look, and it is faster than others | It is a bit slower than React JS as it uses WebView |
| Testing of Code | You need a mobile or emulator to test | You can test via any browser |
| Supported Platforms | It is supported on iOS, Android and UWP | It is supported on iOS, Android, PWA, and UWP |
| Companies | Facebook, Instagram, Airbnb and UberEats | JustWatch, Pacifica, Nationwide and many more |
This is the complete description React vs. Ionic framework for you so that you can understand about this thing in a better manner.
Difference between Angular and Ionic
The next comparison is between this two. This is because the Angular is also a popular framework and are used by many companies to developed mobile applications. But to make sure which is good between the two, many developers get confused among them in a great manner. To make all the things very much easy for all of you, here are the things that you need to know before hoping for any of the one frameworks see the Angular React and Ionic comparison.
| | | |
| --- | --- | --- |
| Features | Ionic | Angular JS |
| Purpose | Open source and free framework compatible with mobile and desktop version | It comes with a unique system of visual, motion and interaction design across devices. |
| Material design | It helps in rapid prototyping | It helps in UI components. |
| Languages | JavaScript, CSS and HTML | JavaScript only |
| Developers | Drifty.co | Google |
| Companies | Edify, Dispatch, Sellsuki and many more | Bannerman, Vizzbuzz, inFeedo and many more |
These are the major comparison between React and Angular for you. By going through this, you can always get some great and outstanding views about which is better and which is good for you to use for mobile app development.
Why is Ionic getting popular?
If you look at these things, then you can find that this framework is getting very much popular among the developers. This is due to the main reasons that are mentioned below.
The very first thing about it is it is free, open-source software.
This is very much easy to learn, and it comes with built-in components.
This framework provides you with some best kind of components as well as some great community support.
This also comes with the rapid development testing cycle.
It comes with the clear as well as updated documentation.
The apps are compatible with Android, Windows, Desktop, PWA, Web, and iOS.
Why is Angular JS getting popular?
This is the third framework, which provides the developer with several features. As a result, this is getting high in-demand. The reasons are mentioned below.
It comes with a two-way data binding, which helps in decreasing the amount of boilerplate code, and it helps in keeping the model as well as view in agreement.
In this framework, you can work parallelly with designers and web developers.
You can change the things out here very easily, and this is done without any altering the real properties of the framework.
You can handle any type of size in here and with the best context and communication is also provided to you.
Why is React JS in-demand?
This is the next type of best framework for you all. This is in demand among the developers due to the following reasons.
This code reusability helps you to develop the apps for all kinds of platform.
React JS is very much compatible with platforms which include iOS, Android, and Windows as well.
It provides the developers with much-needed stability and a well-maintained platform which helps in developing large projects.
This helps in rapid development, which comes with an efficient code structure.
This too comes with the wide range of community as well as platform-independent code.
With all these things are in place, now, if you want to get a good idea about this framework and wants to start the work for your mobile applications, then you can now easily know which framework is good for you. And how you can do the things that you want to do in a better manner.
How to choose which is best?
If you look at these frameworks, then almost everyone will have different views on all of these things. So, you can never get a better idea by asking about which is best for you or your applications. But you can consider the things and functions mentioned above, and by that, you can get a complete idea about all the things.
To make the right kind of decision about this all and to use the right technology for your application development, you can always get in touch with us and can drop your query on info@webinfomart.com or call us at +91-8920374985. Our agency has got some experts who all can help you in getting the best services for your needs.