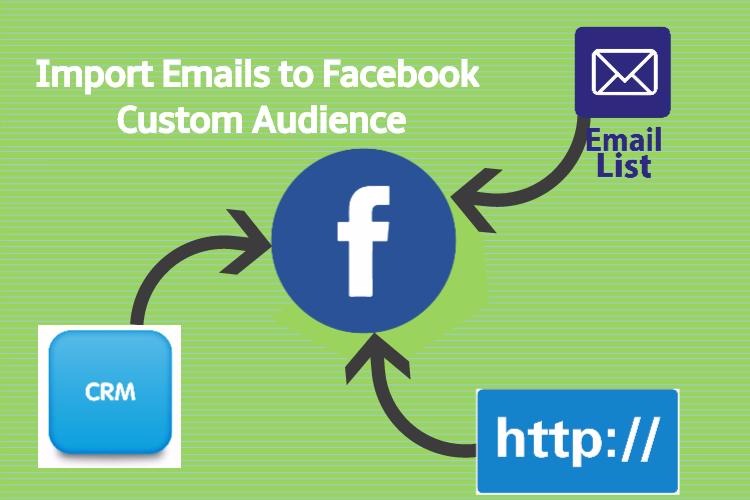 How to Import Emails to Facebook Custom Audience?
You must be wondering and banging your head to find out a solution which you could plugin/integrate with your custom CRM or an Customer Email list, which can automatically update your Facebook Ad Account Audience from time to time based on your new subscriptions or growing email list or Simply can import emails to facebook custom audience.
Well, there are a lot of ready made web-hooks or plugins already available for major CRMs and email service providers but there are many small and big corporations who do not want to use these standard plugins because of lot of reasons or may be they are not suited for their kind of service. Hence we have developed a clean and very simple way to import emails to facebook custom audience. It is written in PHP with the help of Facebook Marketing API.
How does Facebook Email Importer Works?
We have basically developed a script which you can install/host on your server and use its URL as a web hook inside your custom CRM or email service.
It works as a plain http based request, which will push your email addresses to your facebook custom audience.
You can use it as a scheduler or CRON job which will run at a specified interval of time, which can fetch emails from your database and import emails to facebook custom audience.
How to configure Facebook Email Importer on your server?
## URL to create a new Audience Set
http://example.com/custom_audiences.php?acc_id=<Your-facebook-account-id>&aud_name=My First Custom Audience &aud_desc=This is my first custom audience set I created from facebook API
Here :
acc_id is your ad_manager account id
aud_name is any name you want to give your audience
aud_desc is some description text to remember your audience
## URL to populate customers to any audience set
http://example.com/add-audience.php?aud_id=6093418484120&f_name=John&l_name=Doe&email=johndoe@example.com
Here :
aud_id is the audience set Id or audience id in which you want to import that customer
f_name is customer's first name
l_name is customer's last name
email is customer's email
There are also some important points that you should remember when installing the facebook email importer script :
There are some configurations that needs to be done before running the script in the following files :
add-audience.php
custom_audience.php
Line No. 30 to 32
$access_token = 'YOUR ACCESS TOKEN FROM FACEBOOK APP';
$app_id = 'YOUR FACEBOOK APP ID';
$app_secret = 'YOUR FACEBOOK APP SECRET';
You have to basically change these with your app details.
Also, you have to make sure that :
– You have already created a [Facebook Web App](https://developers.facebook.com/)
– Check to make sure that you already own a [Facebook Page](https://www.facebook.com/pages/create/)
– We must have at least PHP 5.4 or higher version installed
– You must be the Admin of that business page
Get started and import emails to facebook custom audience. Download the FREE Facebook Email Importer Script from below :